Ayurvedic Glow Boosting Skincare Kit
Regular price
Rs. 1,125.00
Regular price
Rs. 1,200.00
Sale price
Rs. 1,125.00
Unit price
per
Sale
Sold out
Gift your loved ones their Personalised Nikhaar - the Ultimate Ayurvedic Glow-Boosting Skincare Kit by Natva! Discover the timeless secrets of radiant skin with our meticulously crafted, 100% natural, Ayurveda Inspired and handmade products.

- Indulge in a luxurious skincare ritual starting with our Herbal Soap-Free Face Cleanser, formulated with the powerful blend of Ashwagandha, Bhibitaki & Chamomile. Gently cleanse your skin, removing impurities, and nurturing it with the goodness of Ayurvedic herbs.

- Experience the magic of our Smoothening Face Scrub, enriched with the essence of rose and lemon. This exfoliating marvel will delicately remove dead skin cells, revealing a smooth, fresh complexion underneath, all while bestowing the enchanting aroma of roses.

- Revitalize your skin with our Glow Face Pack, meticulously crafted with the finest ingredients like oats, rose clay, and coconut. Infused with potent nutrients, this face pack will infuse your skin with a natural radiance, leaving it soft, supple, and rejuvenated.

Elevate your skincare routine with our Skin Brightening Facial Oil, a harmonious blend of Saffron, Manjishtha, and Calendula. This nourishing elixir will work wonders on your skin, reducing dark spots, promoting an even skin tone, and revealing a luminous glow from within.

Each product in the Nikhaar kit is inspired by the ancient wisdom of Ayurveda, harnessing the power of nature to deliver the best for your skin. Say goodbye to harmful chemicals and embrace the natural goodness that only Mother Earth can offer.

100% Natural | Ayurveda Inspired | Raw & Sustainable Beauty | Cruelty-free | No artificial colors or fragrances | Handmade with Love

Experience the transformative journey to radiant and glowing skin with Nikhaar. Unveil the true beauty that lies within you and embrace the magic of Ayurvedic skincare with Natva's Nikhaar collection. Reveal your radiance today!
Share
View full details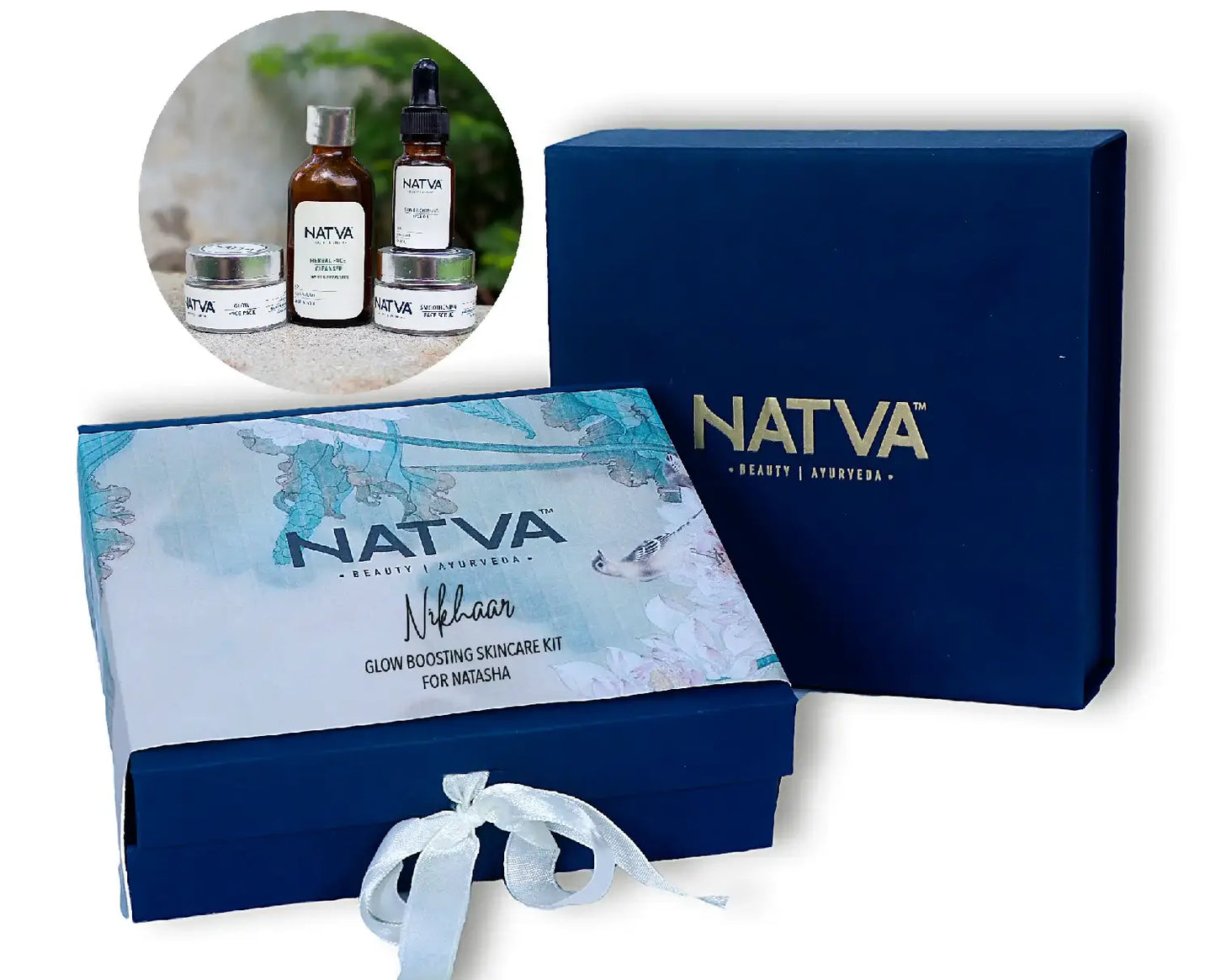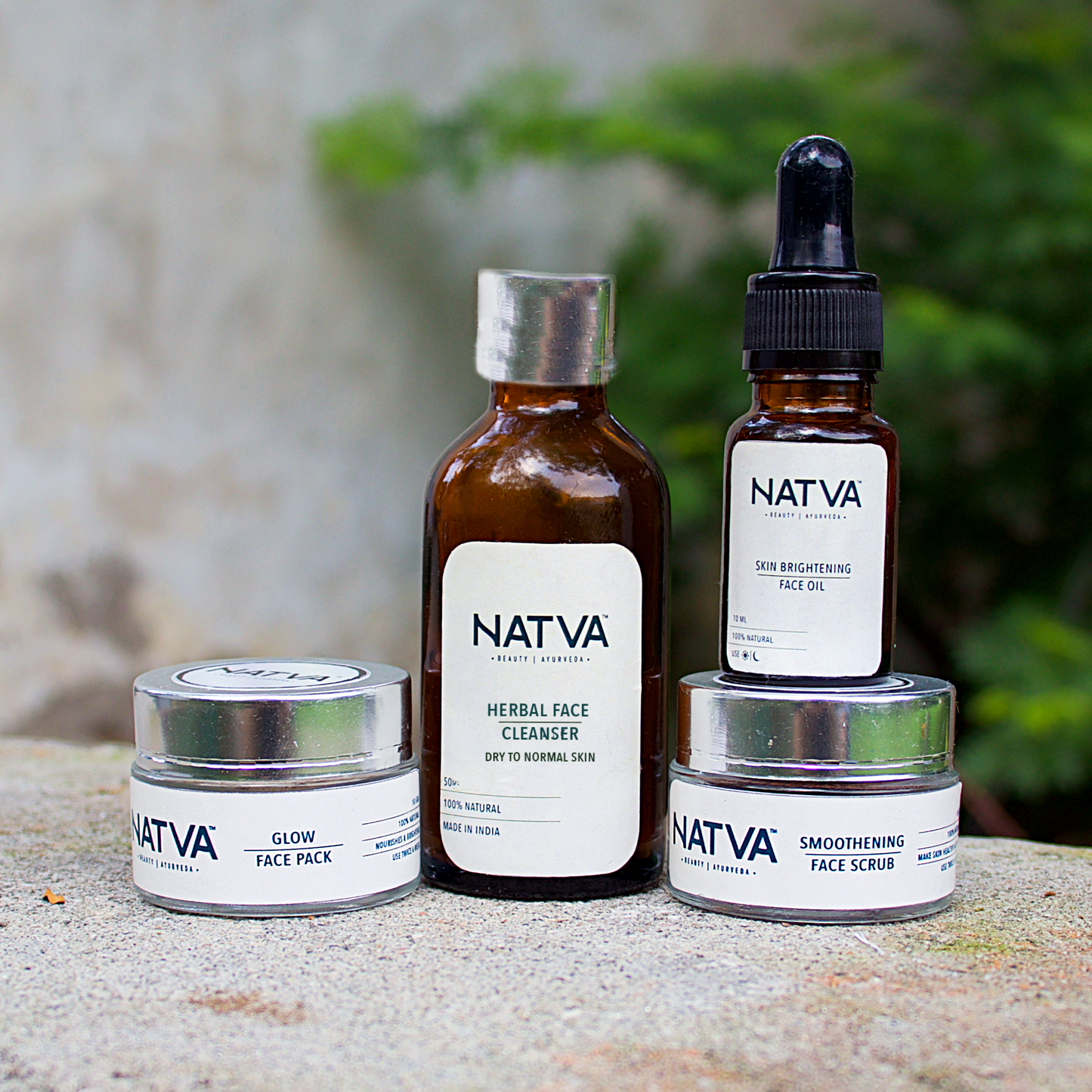 Frequently Asked Questions
Is Nikhaar suitable for all skin types?

Yes, Nikhaar is formulated to be suitable for all skin types, including sensitive skin. However, if you have specific skin concerns or allergies, it's advisable to perform a patch test before using the products extensively.
Can I use these products individually, or is it necessary to use them together as a kit?

While Nikhaar is designed to work synergistically, you can use these products individually to address specific skincare needs. However, for the full glow-boosting experience, we recommend following the complete regimen.
What if I have specific skincare concerns or questions about using Nikhaar?

If you have any specific skincare concerns or questions about using Nikhaar, please don't hesitate to reach out to our customer support team. We're here to assist you on your journey to healthier, more radiant skin.