Ayurvedic Face Massage Tool
Regular price
Rs. 1,990.00
Regular price
Rs. 0.00
Sale price
Rs. 1,990.00
Unit price
per
Sale
Sold out
Discover the transformative power of our Kansa Wand, an Ayurvedic face massage tool designed to revitalize and rejuvenate your skin naturally. Crafted with precision and inspired by ancient Ayurvedic traditions, this remarkable tool enhances your skincare routine, promoting a radiant, youthful complexion.
Key Features:
Ayurvedic Face Massage: Experience the magic of Ayurvedic healing with our Kansa Wand. Used for centuries in Ayurvedic practices, this massage tool is thoughtfully designed to gently stimulate the skin and underlying facial muscles, promoting improved blood circulation and lymphatic drainage. Unlock the ancient secrets of Ayurveda and revitalize your skin from within.

Revitalizing Metal: Our Kansa Wand is handcrafted from high-quality Kansa, a unique blend of copper and tin, known for its balancing properties in Ayurveda. This revitalizing metal helps restore the natural balance of your skin, leaving it feeling refreshed and rejuvenated.

Facial Rejuvenation: With regular use, our Kansa Wand can help reduce the appearance of fine lines, wrinkles, and puffiness, promoting a more toned and youthful complexion. As you glide the wand across your face, feel the gentle touch and embrace the luxurious sensation of the cool metal against your skin.

Soothing and Relaxing: The Ayurvedic face massage with our Kansa Wand not only benefits your skin but also provides a calming and relaxing experience. The gentle pressure and rhythmic movements help release tension, promoting a sense of well-being and tranquillity.

Easy to Use: Our Kansa Wand is designed for ease of use, making it suitable for both beginners and experienced skincare enthusiasts. The ergonomic handle ensures a comfortable grip, allowing you to effortlessly incorporate this beauty tool into your daily self-care routine.
Experience the ancient art of Ayurvedic face massage with our Kansa Wand and unlock the potential for radiant, rejuvenated skin. Let the harmonious blend of copper and tin work its magic, revitalizing your complexion and promoting a natural glow. Elevate your skincare ritual to new heights with this exquisite Ayurvedic tool and indulge in the beauty of self-care. Embrace the wisdom of Ayurveda and order our Kansa Wand today to embark on a journey of youthful radiance and inner harmony.
Kansa Wand Care:
- Simply wipe the wand after each use or use soap and water only on the metal part.
- For natural cleaning, use a paste made with fuller earth and water.
- Store it in the cotton pouch to keep it away from dust & dirt.
Share
View full details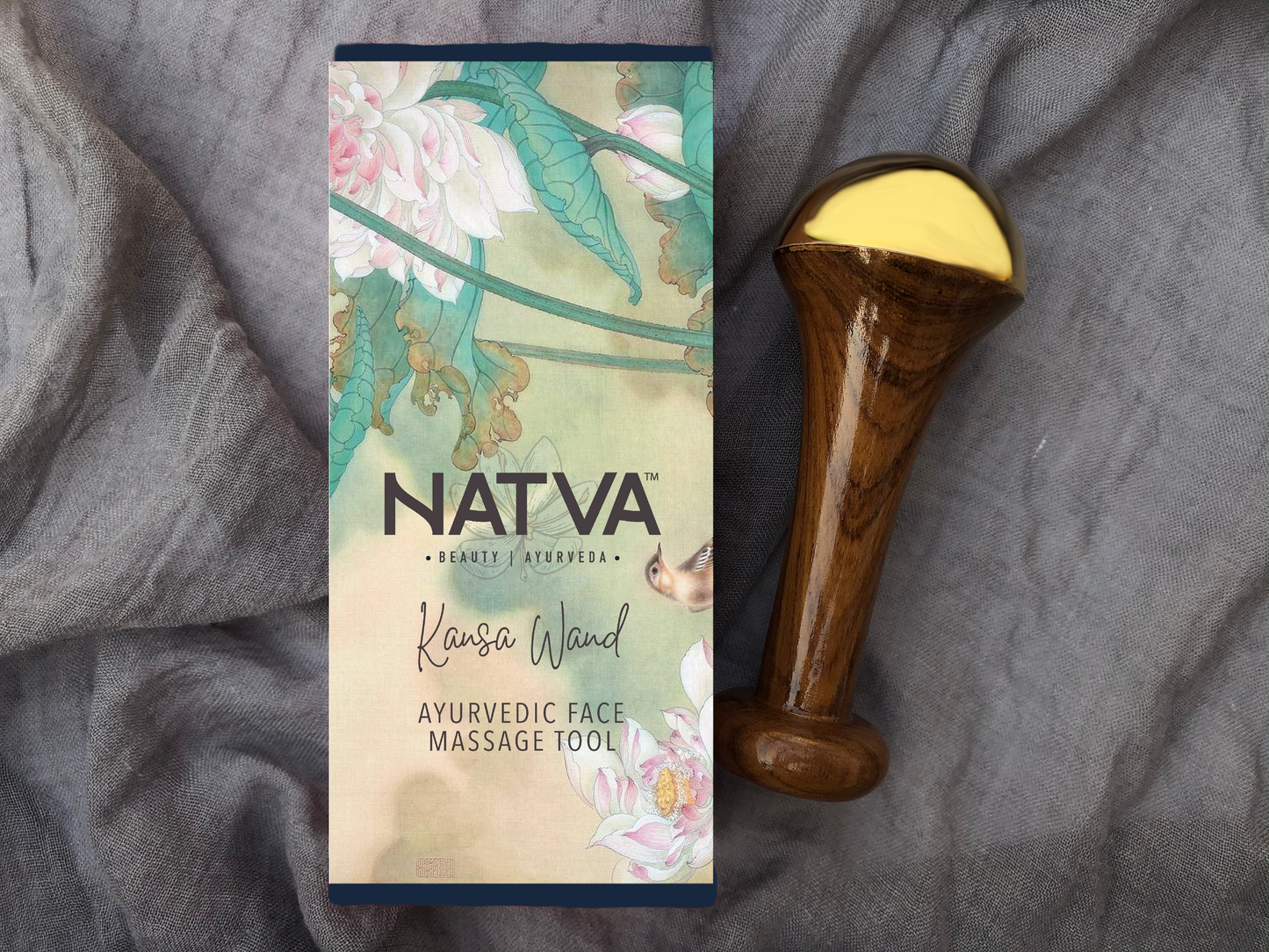 Frequently Asked Questions
How does a Kansa Wand work?

The Kansa Wand is believed to balance the body's energies by drawing out excess heat and promoting a natural flow of energy throughout the body. When used for facial massage, it helps reduce tension, improve lymphatic drainage, and stimulate collagen production for healthier, glowing skin.
Are there any side effects or precautions to consider?

Generally, Kansa Wands are safe to use, but individuals with metal allergies should exercise caution. Always ensure that the wand is clean before use. Avoid using it on open wounds or irritated skin. If you experience any discomfort or skin reaction, discontinue use.
How long should a Kansa Wand massage session last?

A typical session can last anywhere from 5 to 15 minutes, depending on your preference and available time. It's essential to use gentle, upward strokes during the massage.