Pack of 6
Regular price
Sale price
Rs. 260.00
Unit price
per
Sale
Sold out
Made of Bamboo Fabric, super fluffy and soft pads is great to clean and deep into your pores and effectively pull all of makeup, and sunscreen.
These reusable bamboo wipes pads is fit for most dry, sensitive or oily skin and delicate eye area.
100% Natural
Handmade
Ayurvedic
Cruelty-Free
Vegan
Share
View full details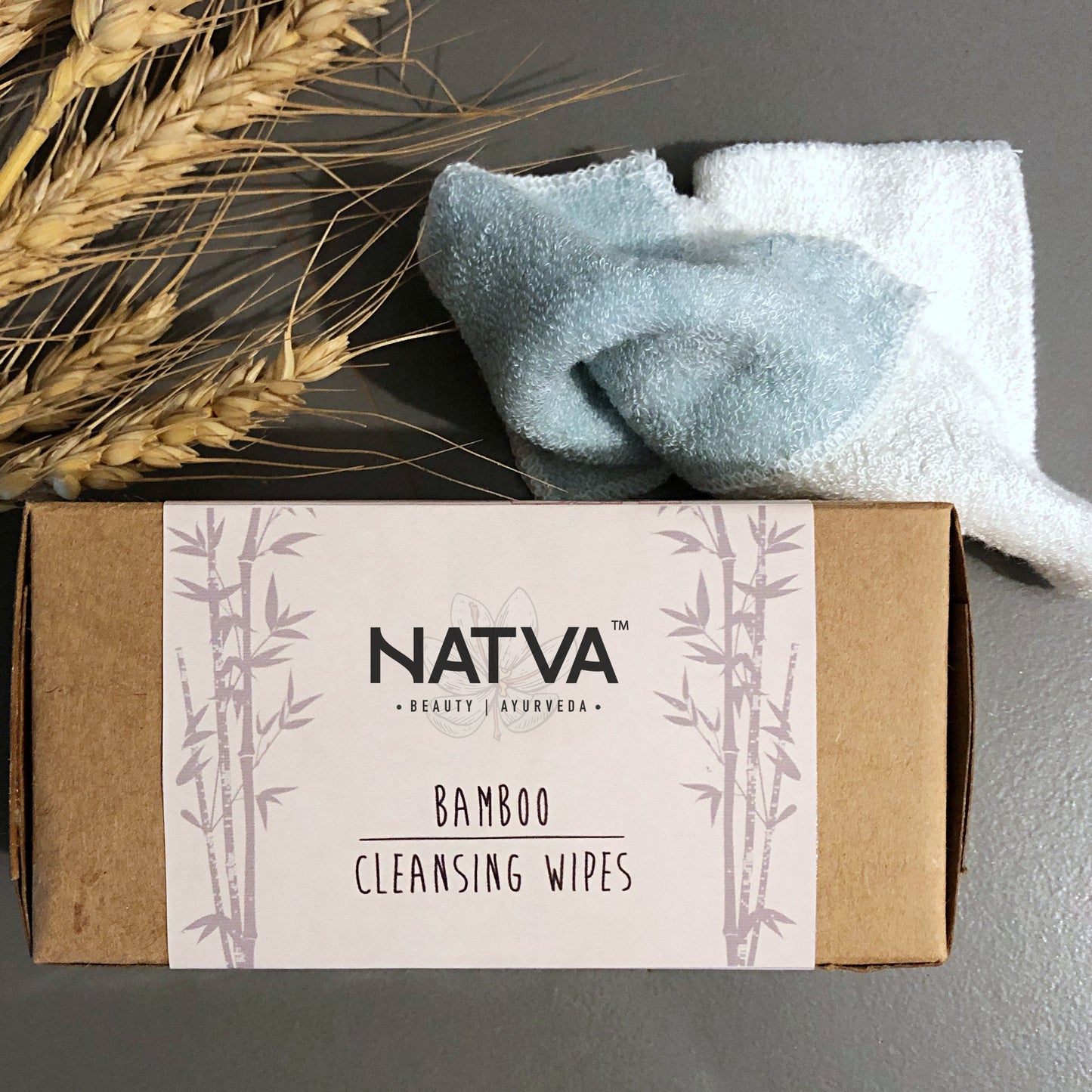 Benefits

- Ultra soft cleansing wipes
- Gently removes makeup & dirt
- Perfect for everyday use
- Reusable
Step By Step Guide

- Wet the wipes under warm water and gently swipe on the face.
- Best used in combination with Natva Coco Rosy Cleansing Balm.
Frequently Asked Questions
What are Bamboo Cleaning Wipes?

Bamboo Cleaning Wipes in skincare are eco-friendly, disposable wipes made from natural bamboo fibers. They are designed to gently cleanse and refresh the skin while effectively removing makeup, dirt, and impurities. These wipes offer a convenient and sustainable alternative to traditional disposable wipes, as bamboo is a rapidly renewable resource.
Can I use Bamboo Cleaning Wipes to remove waterproof makeup?

Yes, many Bamboo Cleaning Wipes are formulated to effectively remove waterproof makeup. However, stubborn or heavy makeup might require multiple wipes or additional makeup remover for thorough cleansing.
Are Bamboo Cleaning Wipes suitable for all skin types?

Yes, Bamboo Cleaning Wipes are generally suitable for all skin types, including sensitive skin. They are often formulated with mild and natural ingredients to minimize the risk of irritation. However, individuals with specific skin concerns or sensitivities should always check the product's ingredient list and perform a patch test before regular use.