Skin Tightening & Brightening
Regular price
Sale price
Rs. 325.00
Unit price
per
Sale
Sold out
Introducing our rejuvenating Ayurveda-inspired Anti-Aging Face Pack Powder, a timeless secret to youthful and radiant skin. Crafted with utmost care and infused with the essence of nature, this exceptional blend combines the timeless wisdom of Ayurveda with the potency of natural ingredients, meticulously chosen to deliver unparalleled anti-aging and skin-tightening benefits.
Paired harmoniously with the soothing embrace of Sandalwood, this dynamic duo works synergistically to bestow your skin with a velvety texture and a luminous glow. The remarkable infusion of Manjishtha, renowned for its skin-brightening prowess, further enhances the complexion's radiance, unveiling a revitalized and youthful appearance.
Share
View full details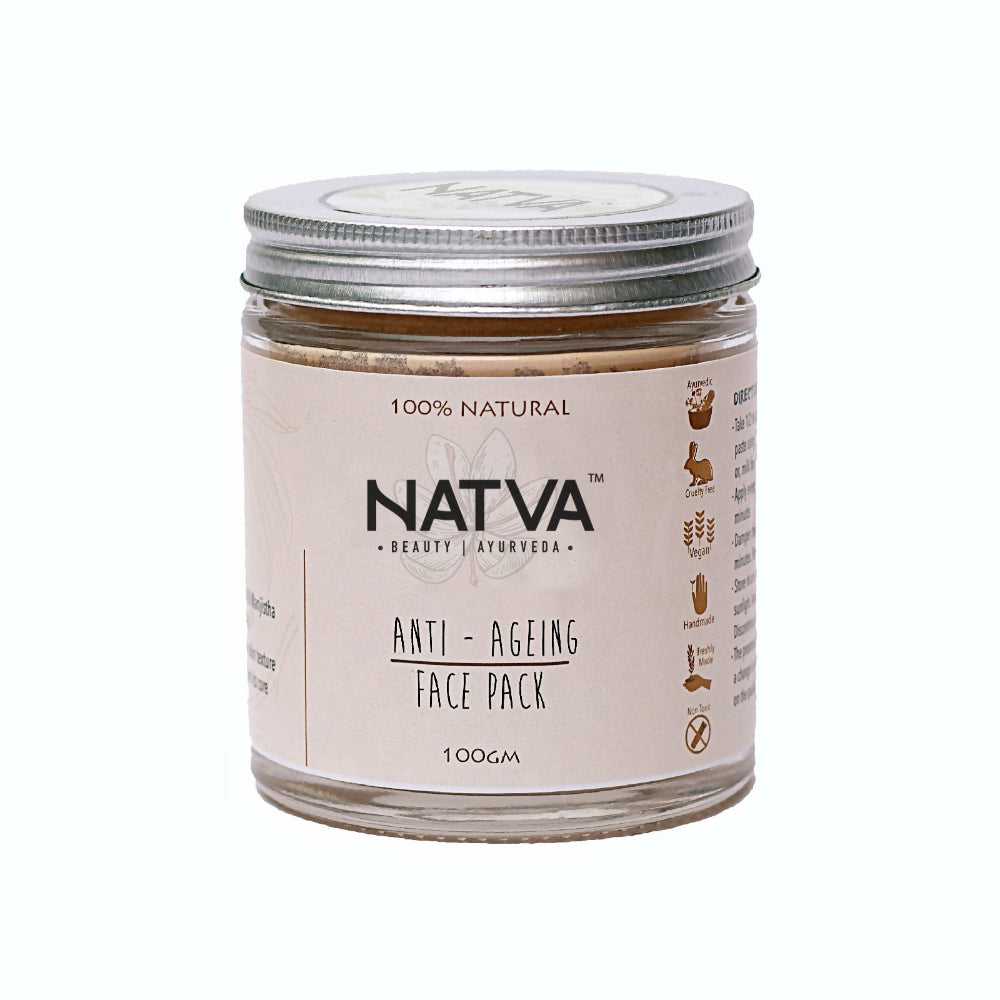 Benefits

- Anti Aging
- Reduces lines and Wrinkles
- Youthful and Radiant Complexion.

Ingredients
Manjistha

Manjishtha, which tightens & brightens the skin, and Lentils, which nourish the skin from its core.

Charoli

Charoli, is celebrated for centuries for its exceptional ability to restore skin's natural elasticity and suppleness.

Sandalwood

Sandalwood works synergistically to bestow your skin with a velvety texture and a luminous glow.
Collapsible content
Full Ingredient List

Lens Culinaris (Lentils)*, Rubia Cordifolia (Manjishtha), Santalum Album (Sandalwood), Azadiuachta Indica (Neem), Sucrose (Raw Cane Sugar), Buchanania Lanzan (Charoli)
*certified organic
Step By Step Guide

-Make a paste using 1 teaspoon of the pack with 1
teaspoon of milk, for dry skin or 1 teaspoon of curd, for
oily skin or combination skin.
-Apply evenly on the face and let sit for 15 minutes.
-After the pack dries, dampen the pack with wet hands and
lightly massage for a minute.
-Rinse thoroughly.

Number of applications per bottle: 20 (26g) and 80 (100g)
Frequently Asked Questions
Is it suitable for sensitive skin?

Yes, our formula is designed to be gentle yet effective, making it suitable for sensitive skin. However, we recommend doing a patch test before applying the product to your face.
When will I see results?

Results vary, but many users report visible improvements within a few days of consistent use. You may notice smoother skin, diminished fine lines, and a more vibrant complexion.


Are there any side effects?

Most users do not experience any adverse effects. However, mild redness might occur initially, as it is slightly exfoliant.