Natural Moisturising Cream
Regular price
Sale price
Rs. 504.00
Unit price
per
Sale
Sold out
Introducing our Beeswax Moisturizer Cream, a luxurious skincare product designed to nourish and hydrate your skin. Formulated with the finest natural ingredients, this cream provides deep moisturization while creating a protective barrier to lock in essential hydration and keep your skin looking radiant.
At the heart of our Beeswax Moisturizer Cream is pure beeswax, sourced from diligent bees in pristine apiaries. Beeswax is a remarkable ingredient known for its moisturizing and emollient properties, helping to soften and smooth the skin. It forms a breathable barrier that shields your skin from environmental stressors while allowing it to breathe naturally.
Enriched with a blend of botanical oils, including soothing Rosehip oil and rejuvenating lavender oil. These precious oils work together to replenish moisture, restore elasticity, and promote a youthful complexion.
Application Uses:
- Daily moisturizer
- Make-up base
- Treats minor cuts & rashes

All Natural
Handmade
Ayurvedic
Cruelty-Free
Veg
Share
View full details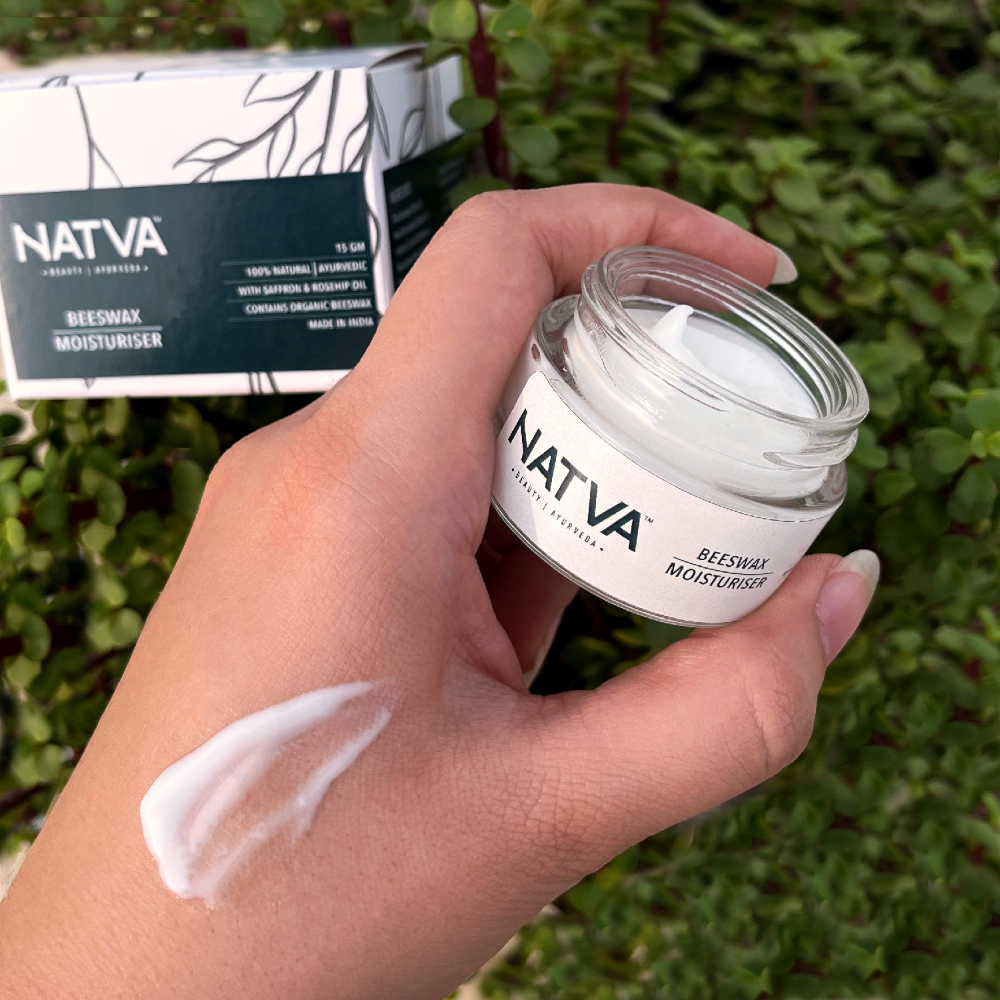 Benefits

- Soften and Smooth the skin
- Replenish moisture
- Restore elasticity
- Promote a Youthful Complexion.
- Treats minor cuts & rashes
Ingredients
Organic Beeswax

Renowned for its deep moisturizing properties, Beeswax forms a protective barrier on your skin, sealing in essential moisture and shielding it from environmental stressors

Pure Saffron

Saffron is celebrated for its complexion-enhancing qualities, helping to brighten uneven skin tones and promote a naturally luminous appearance.

Pure Indian Rose

This Hydrosol captures the rejuvenating power of roses in its purest form. The soothing and balancing properties of rose hydrosol gently calm your skin, reducing redness and promoting a serene, harmonious complexion.
Collapsible content
Full Ingredient List

Olea Europaea (Olive Oil), Rose Damascena Distillate (Rose Hydrosol), Cera Alba* (Beeswax), Rosehip Oil (Rosa canina L.), Rosa (Rose Oil), Lavendula (Lavender Oil), Crocus Sativus (Saffron), Tocopherol (Vitamin E), Geogard Ultra (Ecocert Approved)

*certified organic
Contains 99.78% of 100% Natural ingredients & 0.22% of naturally derived, non-GMO ingredients.
Step By Step Guide

Apply the desired amount onto the skin.
Frequently Asked Questions
Is this moisturizer suitable for all skin types?

Yes, our Beeswax Moisturiser is formulated to be gentle and suitable for all skin types. Whether you have dry, sensitive, combination, or normal skin, you can enjoy the benefits of this moisturizer.
Can I use this moisturizer as a base for makeup?

Absolutely! The Beeswax Moisturiser creates a smooth and hydrated canvas for makeup application. Its nourishing properties can help your makeup sit more evenly and last longer.
How does Pure Indian Rose Hydrosol contribute to this moisturizer?

Pure Indian Rose Hydrosol is distilled from handpicked roses, capturing the essence of the flowers in their purest form. This ingredient brings a sense of tranquillity to the skin, helping to balance and soothe. The delicate aroma of roses also offers an aromatherapeutic experience, promoting relaxation.