Controls Acne & Pimples
Regular price
Sale price
Rs. 325.00
Unit price
per
Sale
Sold out
Introducing our all-natural and Ayurveda-inspired Anti Acne and Pimple Face Pack Powder, a gentle yet potent formulation designed to address acne and pimples at their root cause. Crafted with care and inspired by the principles of Ayurveda, this unique face pack powder harnesses the power of nature to restore balance and promote a clear, blemish-free complexion.
Our Anti Acne and Pimple Face Pack Powder is carefully formulated with a harmonious blend of botanical ingredients, each selected for its renowned healing and purifying properties. We believe in the power of nature to nurture and revitalize the skin, allowing it to regain its natural radiance.
Share
View full details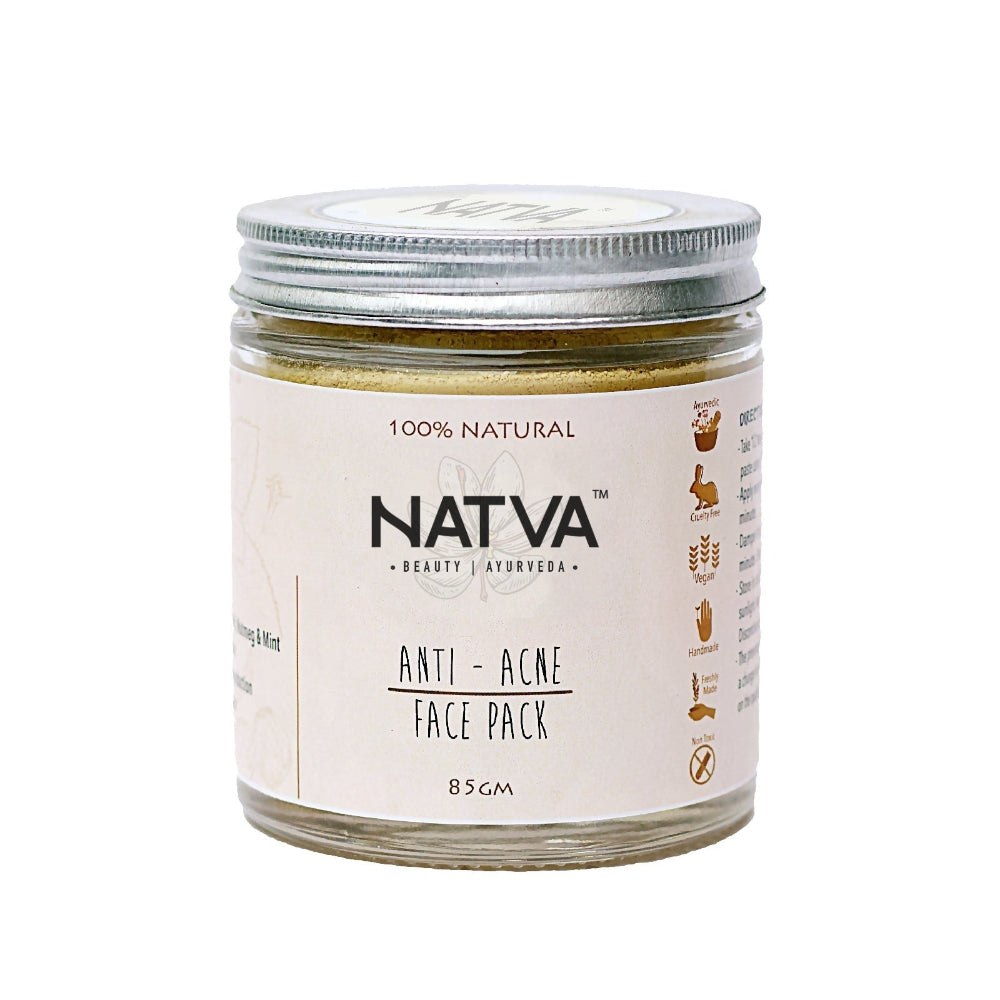 Benefits

- Helps fight acne-causing bacteria by gently exfoliating the skin and controlling excess oil production.

- Helps fade away acne & pimple scars.
Ingredients
Sandalwood Powder

Sandalwood Powder: Renowned for its cooling and calming effects, sandalwood powder helps alleviate skin irritations and promotes a smooth, blemish-free complexion. It also imparts a natural radiance to the skin.

Liquorice

Liquorice Powder: As per Ayurveda, it is known for its anti-inflammatory and antiseptic properties. It helps soothe acne-prone skin, reduce redness, and promote a healthy, even skin tone.

Clove

Clove, celebrated for its exceptional antibacterial and anti-inflammatory properties, takes center stage in your battle against acne. With a centuries-old reputation as a herbal marvel, clove works harmoniously to cleanse, soothe, and revitalize your skin.
Collapsible content
Full Ingredient List

Bentonite Clay, Santalum Album (Sandalwood), Mentha (Peppermint), Syzygium Aromatium (Clove), Glycyrrhiza Glabra (Liquorice), Myristica Fragrans (Nutmeg), Azadiuachta Indica (Neem)
Step By Step Guide

- Make a paste using 1/2 teaspoon of the pack with 1.5 teaspoons of curd and apply evenly on the face.
- Let sit for 20 minutes
- After the pack dries, dampen the pack with wet hands and lightly massage it for a minute
- Rinse thoroughly.

Number of applications per bottle: 20 (26g) and 80 (100g)
Frequently Asked Questions
Can I use it on sensitive skin?

Yes, this face pack is suitable for sensitive skin. However, we recommend doing a patch test before applying it to your face. If you experience any irritation or discomfort, discontinue use.
How does it work?

The Anti Acne Face Pack Powder works by combining the healing properties of carefully chosen herbs and clays. These ingredients help absorb excess oil, unclog pores, reduce inflammation, and combat bacteria that contribute to acne formation. Regular use can lead to a clearer, healthier complexion.
Can I store the prepared paste for later use?

We recommend preparing a fresh batch each time you use the face pack to ensure the potency of the natural ingredients. The prepared paste may dry out or lose its effectiveness if stored for an extended period.